Press Release by System Plus Consulting, Knowmade & Yole Développement, July 2018

Telecom revolution taking place at the early 21st century has led to impressive innovations, especially at the devices level. "We are today at the first step of 5G implementation," asserts Paul Leclaire, Patent & Technology Analyst at Knowmade. "5G comes with strong technology challenges that reshuffle the cards and change the competitive landscape." The RF FE(1) modules market will be so highly impacted by new 5G standard. According to Yole Développement (Yole), it is expected to reach US$35.2 billion in 2023.
Yole Group of Companies including Knowmade, System Plus Consulting and Yole combine their expertise to propose today a comprehensive analysis of the RF front-end module industry. They mix their knowledge of the RF FE ecosystem, their understanding of the IP landscape and their analysis of the today's RF technologies to detail the industry evolution and highlight the technology trends.
Yole Group of Companies affirms today its market positioning on the RF FE sector with four dedicated reports: Yole Group of Companies affirms today its market positioning on the RF FE sector with four dedicated reports:
With technology & market, IP, reverse engineering & costing reports in addition to dedicated strategy consulting services, the Yole Group aims to propose a clear understanding of the RF FE industry with relevant answers to the questionings of the industrial leaders.
How is 5G enabling new business opportunities? Who has the most to win/lose with 5G implementation? What will the impact on the RF FE market? Analysts of the Yole Group of Companies invite you to discover a complete vision of the boiling RF FE world.
RF FE modules market, along with the WiFi connectivity sector, is showing an impressive 14% CAGR(2) between 2017 and 2023. The related IP landscape is dominated by the market leaders. The rapid deployment of Chinese companies with significant R&D activities pushes other players to actively expand and protect their inventions and market. Therefore, IP strategy is critical for insuring the companies a leading market position in the coming years. Knowmade's team proposes today two dedicated patent landscape analyses focused on RF FR industry: RF Front-End Modules for Cellphones report and RF acoustic wave filters report. Both patent landscapes are detailed on Knowmade corporate website.
"Under a positive evolution, LTE(3) evolution clearly is the first growth wave", explains Cédric Malaquin, Technology & Market Analyst at Yole. "However most of the market opportunities in the mid-term will come from 5G NSA(4) radio, which became prevalent in late December 2017(5). Therefore, the need for dual connectivity implies evolution on RF(6) frontend architecture and additional components."
"Not all components will exhibit equal market growth," adds Claire Troadec, Director, Power and Wireless, at Yole. "Filters, which represent the RF front-end industry's biggest market segment, will almost triple from 2017 – 2023." Yole's analysts explain, this growth will come mainly from the significant penetration rate of high-quality BAW(7) filters, which will be required for the ultra-high frequency range defined by 5G NR(8). Another example is co-existence filters for diversity antenna-sharing with Wi-Fi, since rejection band will be critical.
LNA(9) market is expected to grow at a 16% CAGR with the implementation of the diversity module, along with integration in power amplifier modules for handsets. The switch market will enjoy the same growth due to the addition of a new RF path with 4×4 MIMO implementation, which will lead to more diversity switch needs. The antenna tuner market is also expected to record significant growth with 4X4 MIMO technology's penetration. It is worth noting that 4×4 MIMO will be mandatory for 5G. PA(10) will be the sole market to remain almost flat over this period. High-end LTE PA market growth, especially in high and ultrahigh band, will compensate for the 2G/3G market's shrinkage (currently, this market is handled by MMMB(11) PA)…
A detailed description of RF FE modules report from Yole is available on i-micronews.com, RF electronics report.
"2018 is a new year for RF Front-End Module suppliers, and a turning point for some smartphone-making OEMs", announces Dr. Stéphane Elisabeth, Project Manager at System Plus Consulting. "In 2017, we saw an important choice in adopting PAMiDs(13) that distinguished high-end and mid-range smartphones." Today, the distinction between these categories is becoming wider as companies work towards 5G wireless communication protocols. High-end OEMs(12) are seeking new ways to integrate more capabilities into one device, which creates space on printed circuit boards for 5G components in the future.
At the same time, isolation techniques for all FE communication devices are getting better, in a market with high-quality competitors… System Plus Consulting's analysts conducted the relevant comparative technology study, RF Front-End Module Comparison, focused on 10 flagship smartphones, 40 FE modules as well as other RF components. Aim of this study is provide valuable insights and technical data on the technical choices made by the leading smartphones manufacturers and compare integration technologies. Content of this comparative analysis is available on System Plus Consulting website.
Yole, Knowmade and System Plus Consulting, all part of Yole Group of companies will attend European Microwave Week (September 23-28 – Madrid, Spain). Yole Group will also present its vision of the RF FE module industry during the RF Electronics session at SEMICON Europa (November 13-16 – Munich, Germany). Agenda will be available soon on i-micronews.com.
Ask for a meeting with our experts right now! Contact: Léonor Martin, Marketing & Communication Assistant, Yole Group of Companies.
In addition, the Wireless Technologies for 5GS webcast powered by Yole Group of Companies is still available. Make sure to watch it and get a deep understanding of RF electronics innovations. More on i-micronews.com. Stay tuned on the RF Electronics world!
(1)FE : Front-end
(2)CAGR : Compound Annual Growth Rate
(3)LTE: Long-Term Evolution
(4)NSA : Non-Stand-Alone
(5)As defined in 3GPP during release 15
(6)RF : Radio Frequency
(7)BAW : Bulk Acoustic Wave
(8)NR : Noise Reduction
(9)LNA : Low Noise Amplifier
(10)PA : Power Amplifier
(11)MMMB : Multi-Mode Multi Band
(12)OEM : Original Equipment Manufacturers
(13)PAMID : Power Amplifier Module integrated Duplexer
ABOUT THE REPORTS:
5G'S IMPACT ON RF FRONT-END MODULE AND CONNECTIVITY FOR CELL PHONES
How is 5G enabling new business opportunities despite flat mobile growth? – Produced by Yole Développement (Yole).
RF FRONT-END MODULE COMPARISON
Extensive overview of 40 RF Front-End modules and components found in 10 flagship products… – Produced by System Plus Consulting.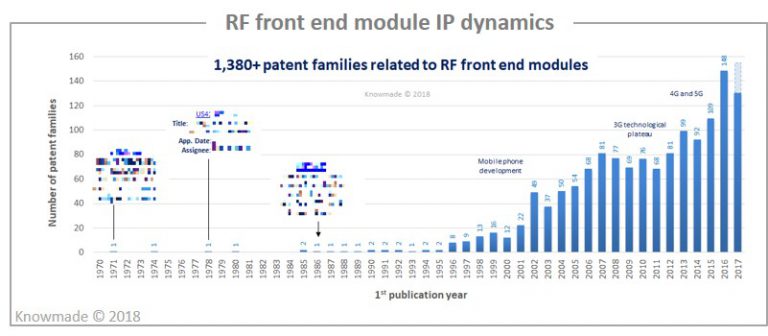 RF FRONT-END MODULES FOR CELLPHONES PATENT LANDSCAPE
Which players show an active patenting activity to stay in and win the 5G race? – Produced by Knowmade.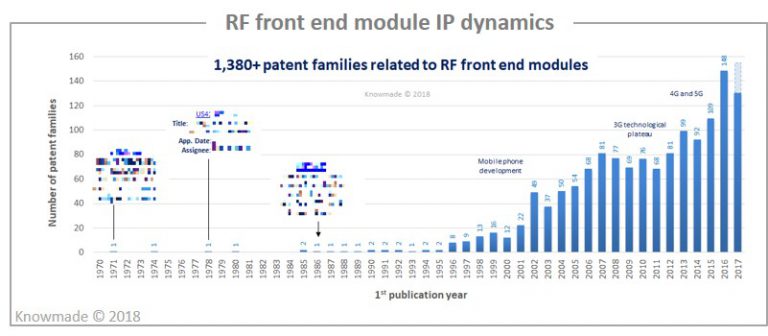 RF ACOUSTIC WAVE FILTERS PATENT LANDSCAPE ANALYSIS
SAW and BAW filters are key components of today's mobile communication modules thanks to their small size, low cost and high performance. But who has the best IP position for the upcoming 5G protocol? – Produced by Knowmade.
Yole Développement, System Plus Consulting, Knowmade, PISEO and Blumorpho are part of Yole Group of Companies.
Yole Group of Companies – Press Relations & Corporate Communication: Sandrine Leroy (leroy@yole.fr)